Have you ever heard of Cinco de Mayo? It's a hugely popular holiday in the US, celebrating the unlikely Mexican army's victory over France in the Franco-Mexican war at the Battle of Puebla on May 5, 1862; hence the name which translates to 5th of May.
In recent years, it rose in popularity across the globe in Japan, South Africa, Australia and of course the UK. Usually, people celebrate with large parades or private parties with folk dancing, mariachi music, Mexican food and drinks.
This articles covers
Virtual Cinco de Mayo Activities
Online Cinco de Mayo Games
In-Person Tequila & Mezcal Tastings
To get you into the spirit here is an awesome Cinco de Mayo Spotify playlist: https://open.spotify.com/user/spotify/playlist/37i9dQZF1DWW6FKfbzAFjW?si=ujhAGLjkR7asaMritroEpA
Here are our top Cinco De Mayo events you don't want to miss:
Cinco De Mayo Virtual Cocktail & Tequila Masterclass
To celebrate the Mexican holiday of "Cinco de Mayo", you can take part in Boozy Events special Cinco De Mayo Tequila Masterclass and shake up 3 Tequila based & Mexican inspired cocktails, all with a Boozy twist as part of a Cinco De Mayo themed virtual cocktail making masterclass.
During the masterclass, we will discuss all things Tequila including the history, myths and traditions while shaking up and, of course, drinking 3 amazing Tequila based cocktails. Plus, we have great options available for no-alcohol guests too.
Our ultimate tequila masterclass is available from February until November, but for our special Cinco De Mayo version simply book between May 1st and May 25th!
How much does it cost?
From £45.00 including free UK delivery.
Where can I book it?
Cinco De Mayo Virtual Quiz
No need to book this one, just jump on Doozy and arrange your own Cinco De Mayo get together.
Doozy has dozens of games and Mexican themed quizzes to have your team interacting for hours.
How much does it cost?
Free
Where can I book it?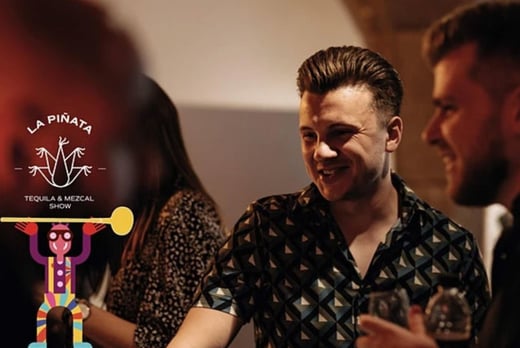 La Piñata – Tequila & Mezcal Festival
Experience some authentic Mexican culture and taste some of the best Tequila and Mezcal that Mexico has to offer. You'll be given a tasting glass (which you can keep) so you can sample all that festival has to offer, as well as tutored talks with experts and panels discussing the latest products and more!
The festival will be held at Tobacco Docks in Wapping, a short walk from Wapping overground station.
Sat 7th May, 11am to 3pm and 4pm to 8pm. Each session is four hours long.
How much does it cost?
£18
Where can I book it?
Los Mochis
Los Mochis – Half Price Tequila Cocktails & Cinco De Mayo Food
For Cinco De Mayo, Los Mochis will be serving special dishes of Spicy Salmon on Crispy Rice, Soft Shell Crab Tacos and Maki, available for a limited time only. Alongside this, they will be serving half-price cocktails with their Los Mochis Tommy's Margarita and Pink Hot Chilli Paloma at only £8 each for the night.
Los Mochis and its infamous Tequileria boasts the second largest collection of fine and rare tequilas in Europe, as well as being the number one seller of tequila in the world!
May 5th all-day
How much does it cost?
£8 cocktails
Where can I book it?
Got a Cinco De Mayo event or activity that should be on this list? Let us know.